Many people will be familiar with the use of acupuncture to help with addictions (such as smoking cessation) and for pain relief but the potential scope for treatment is much wider.
Acupuncture can help with specific symptoms, as a preventative treatment to help with less specific problems such as fatigue or feeling generally unwell.
It can also be helpful in conditions when conventional medicine has been less effective and to increase energy levels.
Here is a list of fact sheets which have been produced to provide accurate and unbiased general information for a variety of medical conditions. They give summaries of research and how acupuncture may be beneficial. (You should always consult your GP if you have any concerns or call me to discuss your specific requirements.)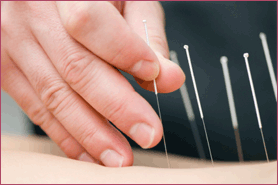 For further information contact Sarah:



sarah@fiveseasonsacupuncture.co.uk

I had been feeling very low after a bad winter - a mixture of the winter weather / lack of sun, a persistent health problem and family stresses. The health problem slowly improved with NHS treatment. The course of acupuncture made a big difference to my overall mood and I felt it was really beneficial at a time of double bereavement. Sarah is a careful and conscientious practitioner, taking care to research her treatments, based on her diagnosis.