Helping families on their journey is a part of acupuncture which Sarah loves; from helping using acupuncture prior to starting a family; whether alongside IVF, helping a coupled to optimise their chances of conceiving, supporting during pregnancy or treating babies and young children; acupuncture can help throughout these stages in life.
Sarah is a member of the Acupuncture Fertility Network which is a professional special interest and educational group dedicated to supporting those with fertility issues.
Sarah trained for 3 years at the College of Traditional Acupuncture in Hatton, Warwick gaining a first class honours degree in Traditional Acupuncture and is a member of the British Acupuncture Council; attending regional meetings regularly. Sarah has always believed that her professional development is very important and attends courses throughout the year to ensure her knowledge is current. Examples of recent courses include Gua Sha, cupping, abdominal acupuncture and acupuncture for supportive care in pregnancy.
Alongside her acupuncture work, Sarah continues to work in her role as an Orthotist working in NHS hospitals and schools throughout Worcestershire and is registered with the Health Professions Council as an Orthotist.
Sarah is proud to be a member of "The Best of Droitwich". This is an organisation which supports local businesses recommended by local people in the Droitwich, Worcester and the surrounding area. <top>
ACUPUNCTURE FOR ASSISTING MALE AND
FEMALE FERTILITY
Some couples struggle to conceive and often there are no specific reasons for this. According to the HEFA, after a year 10% of couples trying for a baby will still be unsuccessful and being given a diagnosis of unexplained infertility can be devastating. Stress is well acknowledged to be an important factor in infertility and acupuncture has a lot to offer in these cases by affecting stress hormones and assisting relaxation. Couples trying to conceive may improve their fertility and chances of conceiving if they have acupuncture.
Acupuncture can be used by both men and women in preparation for starting a family and to support the reproductive systems. Your specific needs would be assessed and a treatment designed just for you and or your partner. Regular treatment ideally should be commenced regularly ideally 3 months prior to trying to conceive.
The British Acupuncture Council has produced fact sheets relating to male and female infertility which may be helpful in explaining some of the current and past research in to the use of acupuncture and how it can help support couples. <top>
ACUPUNCTURE AND ASSISTED REPRODUCTIVE
TECHNOLOGIES
Acupuncture is frequently used alongside ART such as IVF, ICSI and IUI in order to prepare the body for each stage of the process. The British Acupuncture Council have produced a fact sheet giving information on research relating to acupuncture and ART.
Ideally, weekly treatment should be commenced 8-12 weeks prior to starting an IVF cycle. Acupuncture can also be used prior to and post embryo transfer using a protocol called the Paulus Protocol (Paulus, 2002) which showed an improved implantation rate when this was used. <top>
PREGNANCY CARE
It is common for many women who have undergone acupuncture prior to starting a family to then continue treatment throughout their pregnancies. Others choose acupuncture treatment during pregnancy for specific issues such as nausea, vomiting, back pain, turning a breech position baby or for inducing labour.
The British Acupuncture Council has produced fact sheets which explain the research relating to these conditions.
The weeks following delivery can be physically and emotionally challenging; acupuncture can be continued in this wonderful but tiring time. Coping with body changes, sleep disturbance and sometimes discomfort can be supported by thecontinued use of acupuncture and the BAcC has produced a factsheet relating to this time. <top>
CHILDRENS ACUPUNCTURE WITHOUT USING
NEEDLES CALLED SHONISHIN
Young children are very different to adults in terms of their requirements for acupuncture, they are more sensitive but also more responsive. Needles are often not required for under fives and a technique called Shonishin can be used instead. This is a Japanese style of treatment using smooth and angled tools to gently tap and stroke areas of the back, head, legs and arms. Treatment is supplemented using a teishin (a spring loaded tool which looks like a retracting pen) which presses on acupuncture points but doesn't penetrate the skin. These treatment are relaxing and fun and cause no discomfort or upset to the child or just as importantly the parents. Techniques can be shown to parents to continue to use the treatments at home.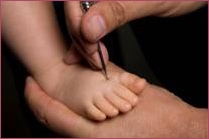 Shonisin can be used for helping with sleep issues, constipation and digestive issues, asthma, eczema, bedwetting and unsettled children. <top>